I had so much fun hunting elk with my bow on the La Sal mountains!!! I was able to take my family down for 4 days over Labor Day and we had a great time. We found elk but the rut hadn't kicked in yet and we returned home with tag intact.
I went back down alone on September 8th with plans to hunt til it ended on the 16th. It was as much fun as a guy could ever have. My Wall tent was my home for 8 days.
A good friend came down on late Friday night and spent Saturday hunting with me. We saw bulls and bucks but couldn't close the deal. We did have a great evening hunt and almost called a bull into range til the wind switched and he blasted away. Close but no cigar! We went off the mountain Sunday and went to church in La Sal at the LDS branch there. I really enjoyed visiting with ranchers and timber guys and other who live there in the town of La Sal. Good folks for sure. Hunted hard alone Monday and covered 13 miles up a canyon and down another and then back around the mountain to my 4 wheeler. Tired feet but happy heart! Saw a sow and her 2 cubs at 20 yards. They scooted across the trail and kept going. Made me very happy to see their backsides and not momma coming to introduce herself. Some of the high mountain country i hunted. Camp was 9800 feet and I was over 11000 several times.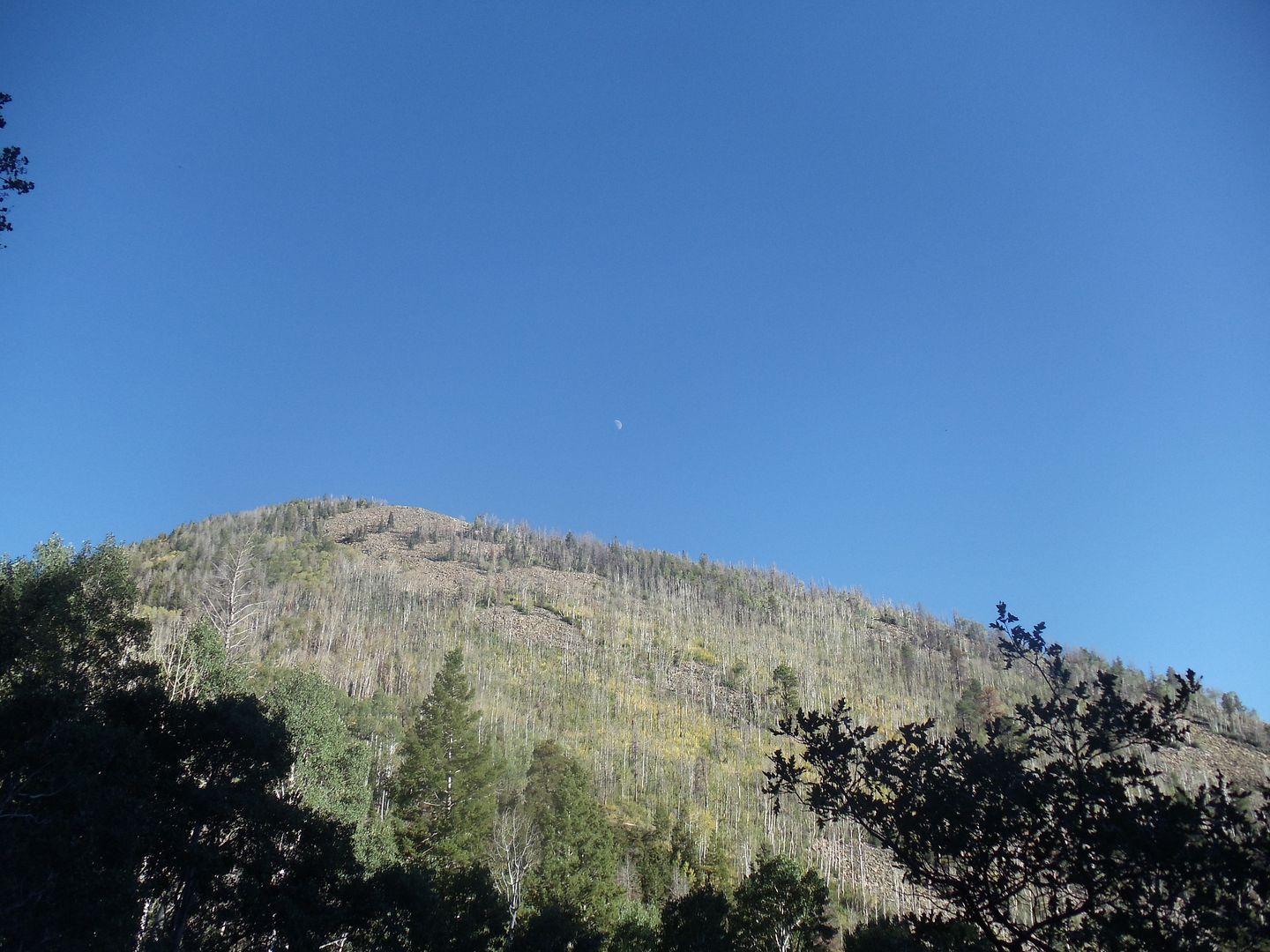 Tuesday brought a cold rainy morning and 2 bulls that would bugle but not commit to my seductive calling. Oh what fun though! Saw a bachelor band of bucks near timberline, 2 of which made me wish for a deer tag. The rain got steady and I decided to run into Moab and clean up a little. Squirrels were falling out of trees when I passed by so I thought a shower might help. Got back to camp at 1 and geared up in raingear for en evening adventure in the damp. I headed down the mountain thinking about what a friendly La Sal guy had said about hunting the oakbrush. But I had decided to go high again and chase the bulls I had chased that morning.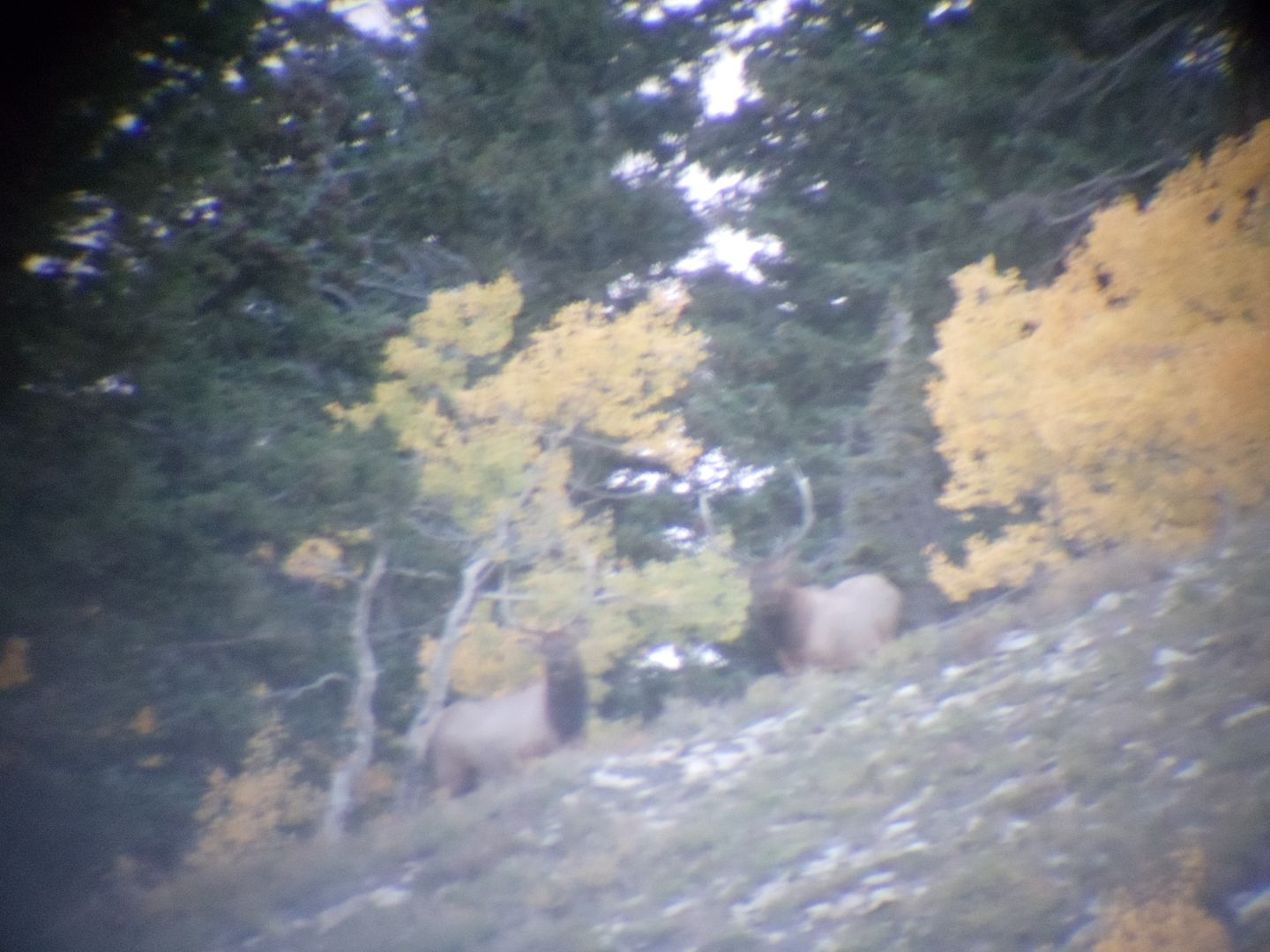 Ruffed grouse on a burned log I encountered on one of my hikes.
Looking south toward my beloved Blue Mountains of San Juan County Utah.
The best laid plans….. I stopped my 4 wheeler down low to take a picture of Mount Peale with new snow on the top, and when I turned off my wheeler I heard an elk bugle. Interesting! I took my pictures and he bugled again about ¾ of a mile away.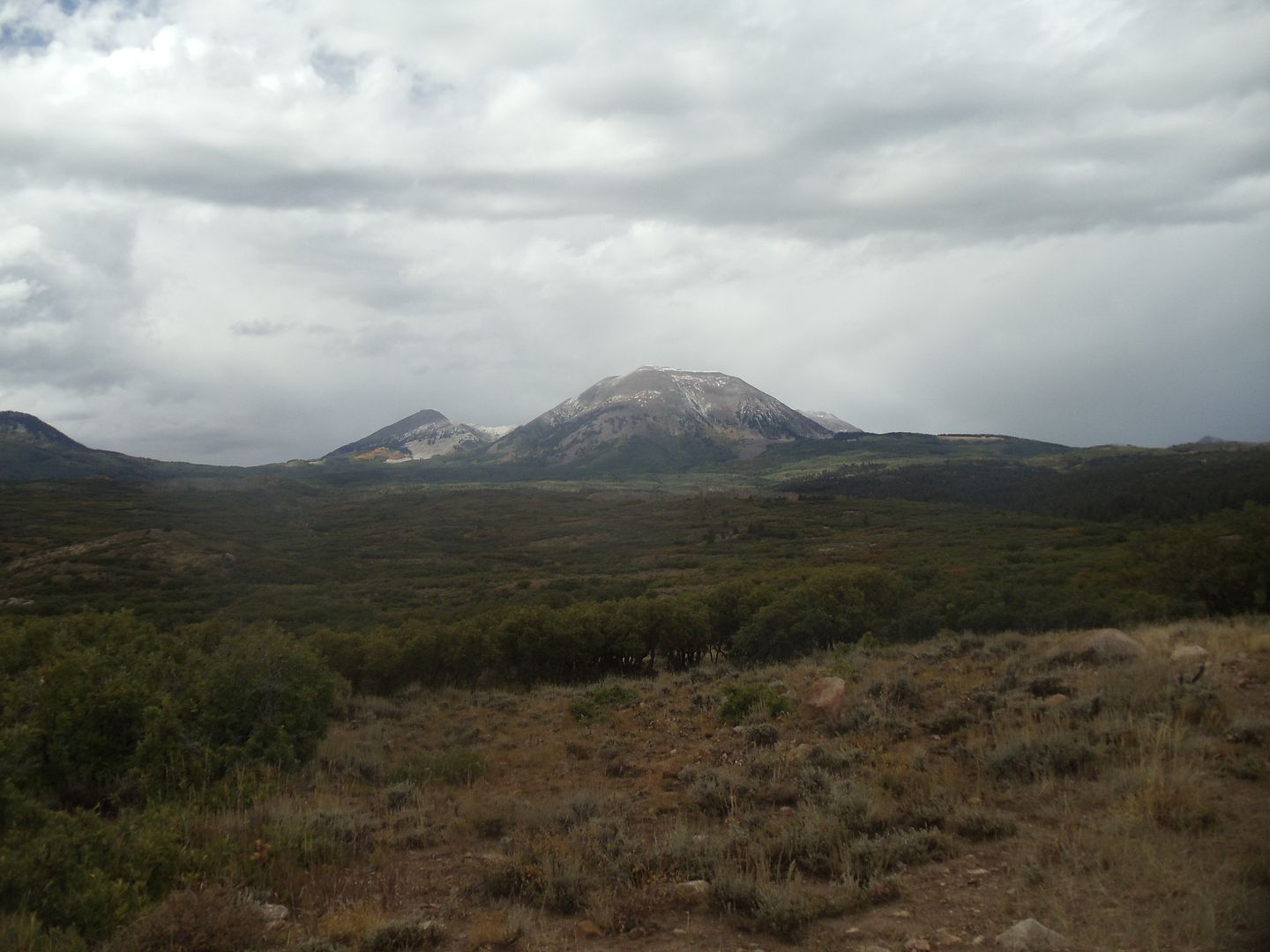 I cow called some and kept glassing and finally spotted him in a little park with a cow. I parked the bike and headed his way. I played with him for an hour once getting as close as 12 yards. He was shredding an oak tree and I could just see a tiny piece of his hide as he rubbed his horns. NO SHOT!!! Then a calf walked out at 4 yards and saw me. Followed shortly by his momma and elk went everywhere. So much for stealth!! I followed them a bit but they weren't buying what I had to sell, so I headed out after another bugle. By the time the night was done, 9 different bulls bugled at me of came in to my calling. AMAZING to say the least. I got a glimpse of a great bull with cows north of me but the wind was all wrong for a stalk. He was gorgeous with ivory tipped, chocolate horns and the color of a palomino horse. I got 90 yards from him and had to let him and his band feed east so I could loop in behind them and try to get close enough for a shot. While I waited I was almost run over multiple times by a one horned 4 point bull. I swear he would sneak in and see or smell me and run off thinking to him self that I sure sounded like a cow elk but looked like a man. He came back more times that I could count. Crazy little bull! Finally I worked to within 60 yards of the herd bull and his cows. I saw a muddy bull come out of a stockpond where he was rolling in the mud, and he was screaming his head off at the herd bull. He looked good too and I kept sneaking closer, silent, as the bulls were going crazy enough without my help. Then the sky opened up and what started as rain quickly turned into a dandy hail storm. The elk shut up and we all hunkered down in the oaks dodging little white marble sized hail. It quit almost as quickly as it started, and the bulls fired right back up. What I didn't realize was that the herd bull and the muddy bull had did a little do-si-do during the storm and swapped places. I cowed called and the muddy 6 point came waltzing out of the oaks at 42 yards right in front of me. I only hesitated for a split second over whether to try for the herd bull, and then I clipped my release on my string and drew my bow. My 40 yard pin settled gently where I wanted it to be and I let out some of the breath I was holding and squeezed my release. PERFECTION! He was facing to the left, broadside and I hit him right behind the shoulder! He ran 10 yards favoring his right leg, because the broadhead had broken his right shoulder as it tried to exit. I quickly bugled and all the other bulls chimed in too and he stood there listening. I watched him for what felt like an hour waiting for him to tip over, but elk are so tough. With a broken shoulder and both lungs hit, he just stood there for 25 or 30 seconds. I couldn't take it, so I slipped in quiet to 20 yards and shot him again through the right shoulder. He blasted out of the oaks for 30 yards and then piled up near the same pond he had wallowed in a few minutes before.
I got to watch the whole thing, and I collapsed about the same time he did. I had trouble breathing and am not ashamed to say I shed more than a few tears. I knelt and said a quick prayer, thanking God for the mountains, my family and his creatures. I thanked that wonderful bull for his life and meat for our table. What an amazing animal and an experience I will always treasure and hold sacred. He is a beautiful, mud covered 6 point with a deep growly bugle. I guess his teeth to age him at 5. He may not be the biggest bull on the mountain but he is plenty big enough for this cowboy from the desert!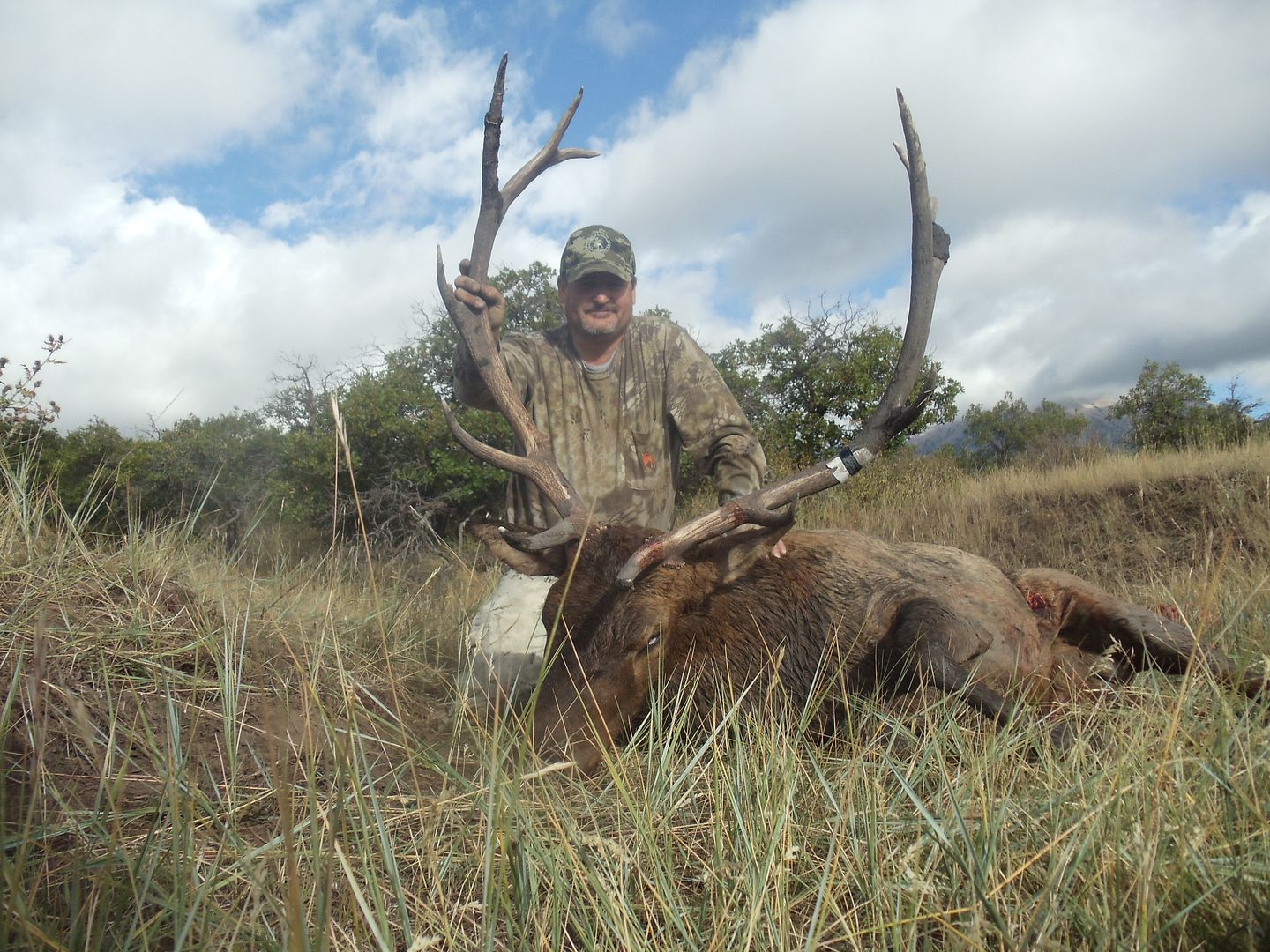 Solo on the mountain but with the hearts and spirits of my family in my backpack! What a dandy bull. YIPEEEEEEE!!!
I may look grizzled and tired but I am happy! Nobody to take my picture but me.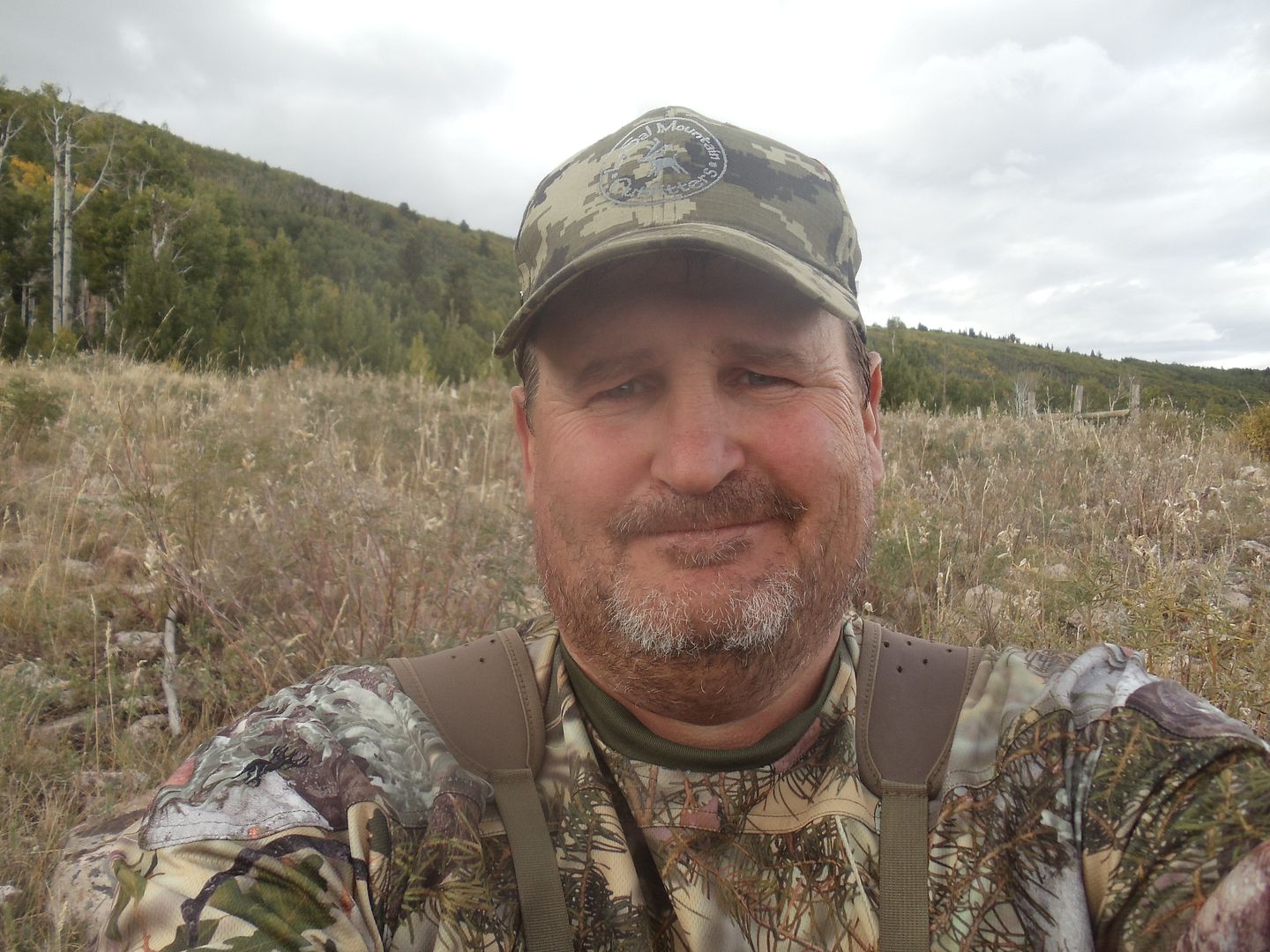 The spot I stopped to take a picture and heard the bulls bugle. Framed by a pretty set of 6 point elk antlers. Did I already say YIPEEEE?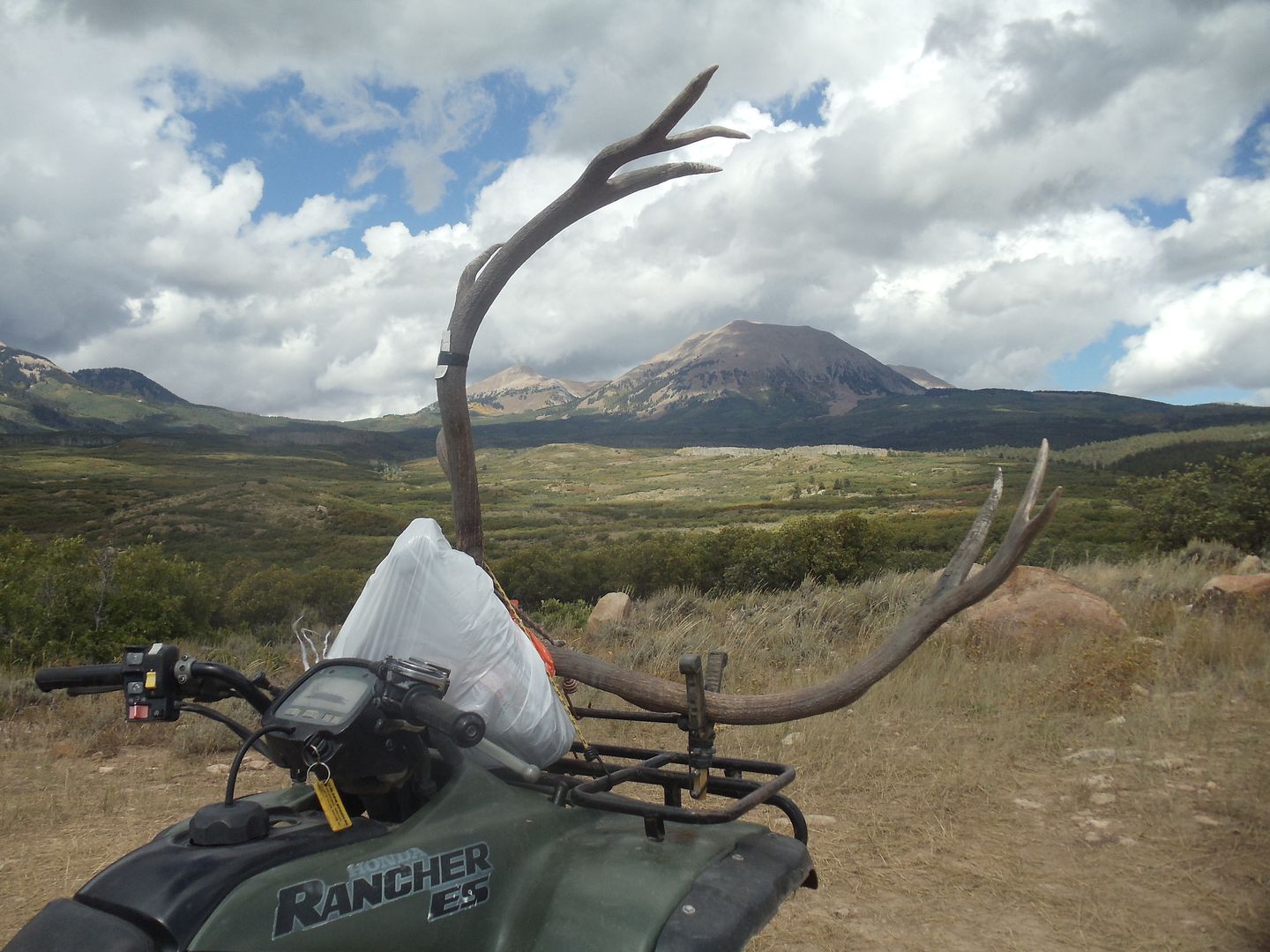 Loaded up and headed back to the desert. It was an epic adventure and the trip of several lifetimes. Many thanks to the Good Lord for his blessings and love. Would it be ok if I say YIPEEEEEEEEEEEEEEEEEEEEEEEEEEEEEEEEEEEEEEEEEEEEEEEEEEE just once more?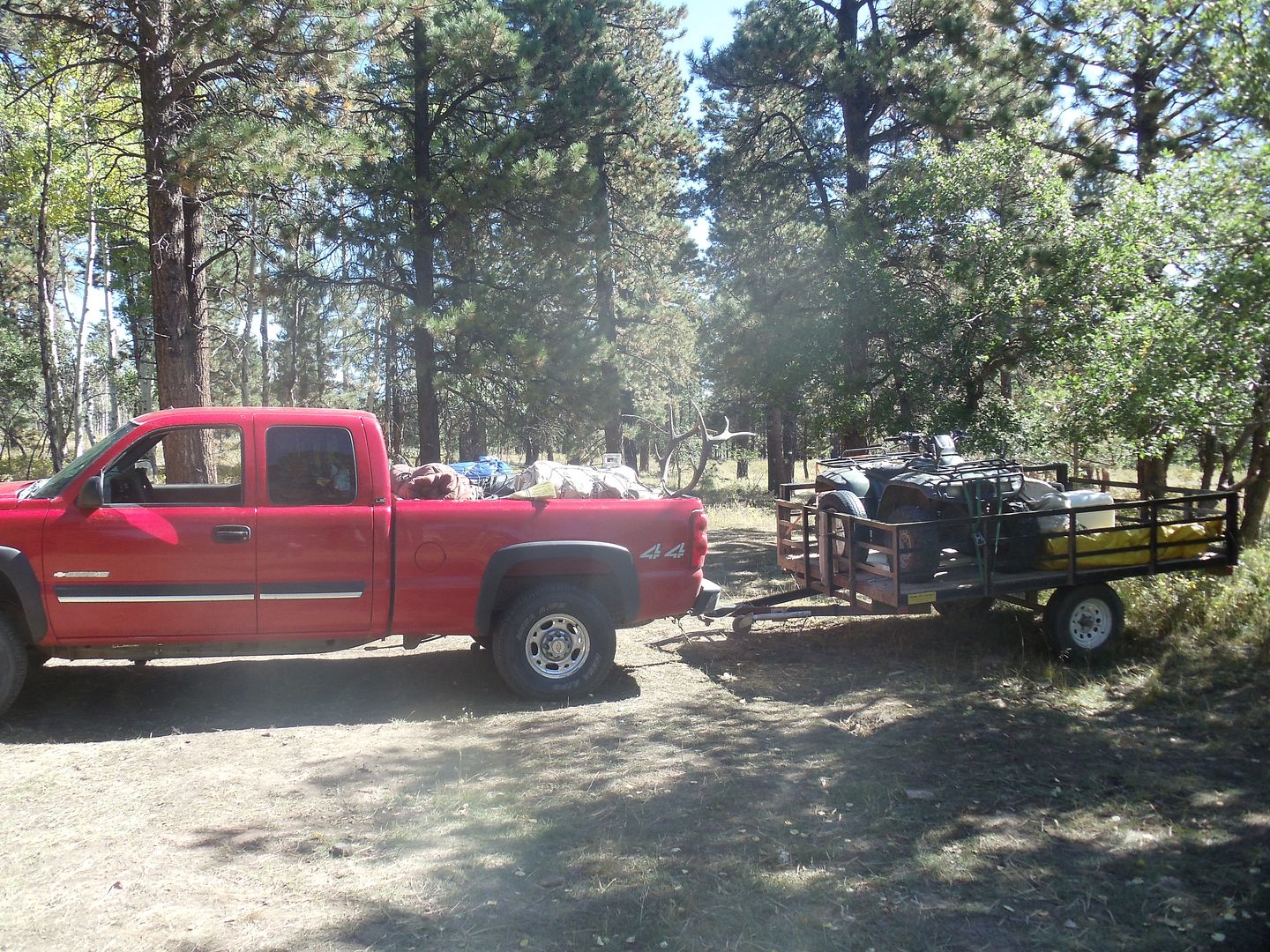 To be able to spend time on an unbelievably beautiful mountain, to have many close calls and see everything from ruffed grouse to bears, from great bulls to gorgeous high country bucks and to cap it off with a memory for my lifetime, is truly a privilege and a blessing. I will cherish this bull every time we cook a steak and each time I see his horns in my home. If ya happen to look west of an evening and you see a glow coming off the west desert, it is just my teeth shining as I keep smiling over what was an amazing and perfect hunt. Thanks for reading my epistle. Luck to ya'll as you hunt and ranch and spend time on God's wonderful creation. Happy Trails and YIPEEEEEEEEEEEEEEEEEEEEEEEEEEEEEEEEEEEEEEEEEEEEEEEEEEEEEEEEEEEEEEEEEEEEEEEEEEEEEEEEEEEEEEEEEEEE!!!