I haven't been very good about packing my camera or getting them posted after I take them. Thought I'd try and share a few today.
Here's a few from last fall gathering the tailenders off the mountain. Fall colors on the Cottonwood trees.
We rode the ridges and knocked the ol' sisters into the bottoms.
Down they went. Followed by a shadowy kinda fella
After combing the hills, we sent them down the canyon. A few little jags make a decent bunch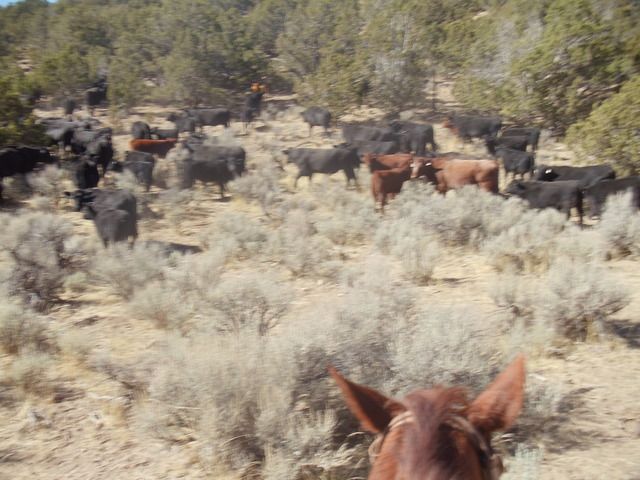 I ran across a little band of wild horses last fall as well. Its always fun to see them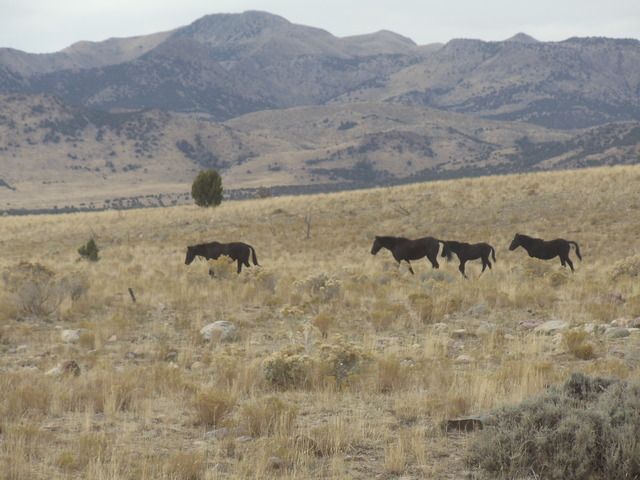 Building new stock show pens and a shed. The kids have a grundle of projects and littlest H is a pretty good helper. This will be a combo 4H hog pen from April through August and then become another spot to lamb ewes in January.
Speaking of pigs.... He went down to the outfit we buy his show pigs from and picked 2 for the stock show. Me and his mom got out of the way and he pulled on his muck boots and went to picking pigs
The folks we buy pigs from are great folks. They always have great pigs and have won several fancy ribbons. Jeff gave Dalton a few pointers on what to look for and then came and stood by us while Dalton made his choices. He looked them over for about 45 seconds and then pointed out his 1st pick. Jeff turned to me and whispered "Best pig in the pen".
Then Dalton went into the 2nd pen and made his choice. Jeff started to laugh and said he picked the best pig there too! Maybe we are raising a pig farmer!
It will be fun to see how they grow and compete at the Fair in August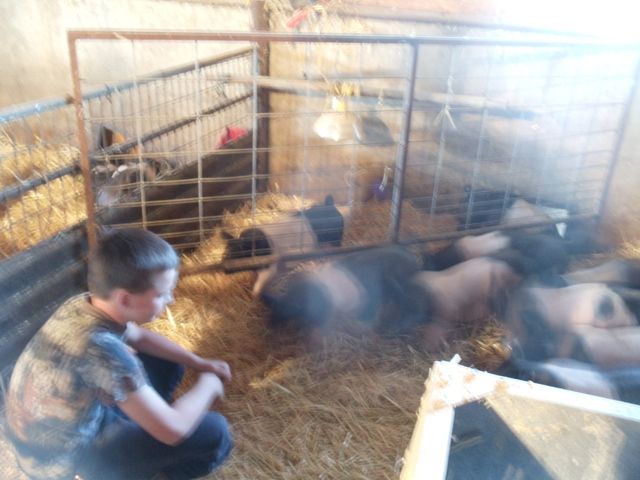 He picked a Gilt and a Barrow and they get along with littlest H pretty well. He has been working with them already and those pigs walk right out for him.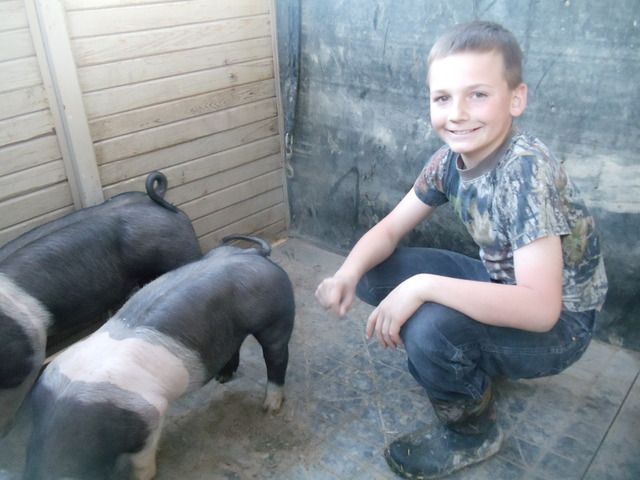 This last picture was pretty neat. The elementary school went over into the big city and preformed for a Veterans program. They sang some songs and then got to visit with the veterans. Littlest H loves World War 2 history and he was sure proud to shake hands with one of the Greatest Generation!!! Thanks to all servicemen and women from every generation!!! We love you and appreciate your sacrifice and service to our nation and our family!