It's been a while sense I've been to the West Desert. It was really good to get out there again. One perk was that
my friend from over the mountain was there also. We caught up on a lot of gossip.
One Ear's band was out on the Hard Pan, too far from the Pony Express Trail Road to walk to. The road had sand traps about thirty yards long all along the road. The dust is a foot deep, not fun to drive through.
The big white paint mare and her band was on the water when we got there. The Big Twin is running in that band and seems to have permission from the band stud. However there is a sorrel stud hanging around outside of the band that doesn't get the same respect. They all look in good shape even though It's drier than I've ever seen it before.
Today I broke my schedule of posting once a month, because of the amount of interest on my last post.
Thanks to everyone.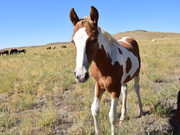 This youngster was quite curious. But only for a minute.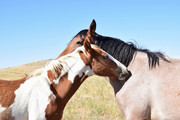 Then he went to grooming his friend.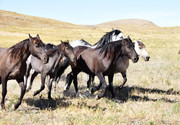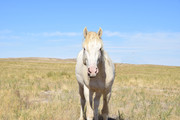 It's been a while sense I've seen "Friendly Fred." It looks like he still remembers his human friends.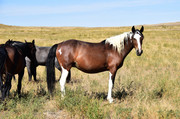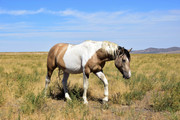 Gypsy's fifth colt. He has joined up withe the Old White Stud and the one we called Buck, that has lost
his mares to Gypsy's fourth colt.. (below_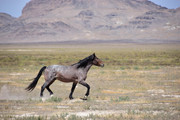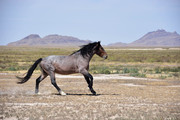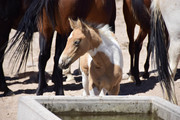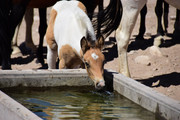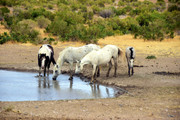 Gypsy's fourth colt with his two mares and a colt. He paid dearly for those two mares.
Mostly hair but some blood too.