My granddaughter was the maternity nurse. She is 7 and had a world of questions.
Pa why are the puppies in a balloon?
Pa what is that cord coming out of the puppies belly?
Pa did my mom bite my umbilical cord off?
Pa this one is a girl and this one is a boy.
Pa why do I have blood and urine on my hands?
Pa why do you have 2X4s around the inside above the floor?
This is when Kinzie was just helping deliver.
"Precious" ( can you tell my granddaughter named her? ) ended up with 10 healthy pups. Both of the black ones are Females as well as 2 of the silver gray.
[/img]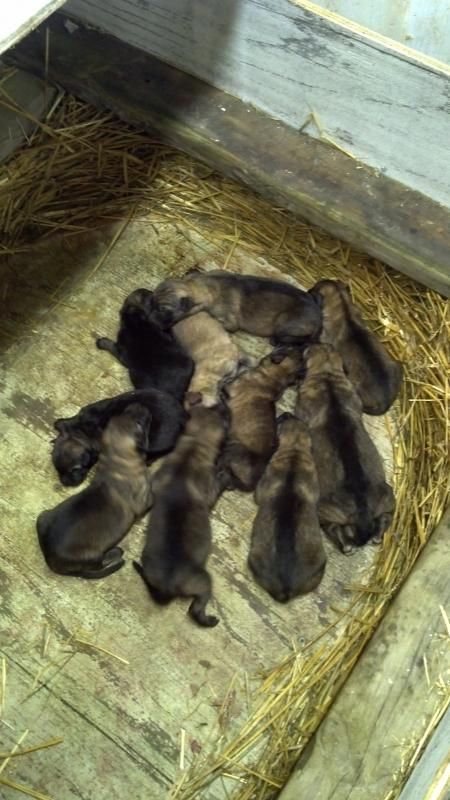 Can you tell which side of the whelping box floor is heated?
[/img]
The first time I made a whelping box with a heated floor I heated the whole floor and the dam would not stay in the box and she would remove the pups.
The baby pig mats stay from 90 to 100 degrees and while that may be fine for baby pigs the pups do not want it that warm. With a 1/2" air space between the bottom of the plywood floor and the pig mat the plywood holds between 80 and 90 degrees and with a 1 1/2" air space on the other side the side for the dam stays about 60 to 70 degrees where the concrete floor in the unheated basement garage stays at about 50 degrees.
If anyone wants directions on a good whelping box PM me and I will reply.
I have been raising GSDs as long as I can remember and started the current endeavor in 1972 after returning from the USMC. We only breed each female once a year as they are more family than money producers. ( I know many people push them to get 5 litters every 2 years )
With breeding for silver gray a typical litter is from 8 to 10 pups and normally most will be silver gray with a couple of traditional black and tans.