My dogs love my "igloos" Most farmers haul water in large plastic tanks - - - after 10 years there is a real danger of them exploding when you hit a bump due to exposure to sunlight - - - This is an old tank we could no longer trust.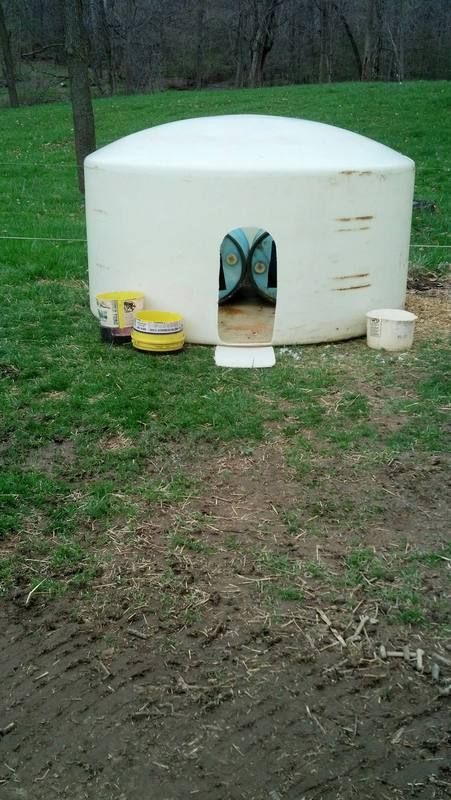 I placed two 55 gallon barrels inside - - - My grand-kids say the dogs have a living room as well as 2 bedrooms. In the summer I leave the top lid off so that warm air exhaust and pulls cool air in the door - - - in the winter I close the top lid and with 2 or more dogs all going into the same "igloo" it stays very warm, the floor is tilted to the rear and water goes out the 24" diameter opening I cut in the floor to insert the barrels, but the barrels cover the opening so the dogs have a clean dry floor to lay on.
Of course the grand son keeps clean straw in the barrels.
And "Tigger" gives it her stamp of approval. Her litter is due in 5 more days so she will move to the welping kennel for a couple of weeks with a heated floor for the pups.
The chains are 25' from the center stake to a swivel, then 2 more 25' lengths attached to the swivel so two dogs are in the same area - - - with 50' of chain it is 100' across ( almost 1/4 th acre )and they cannot get tangled if there is nothing else around. Most of the time they are free to run in the 3 acre fenced yard.