jigs entered the 5th week "funniest 2" winner. Send me the Old Homestead pictures for the week 6 catagory.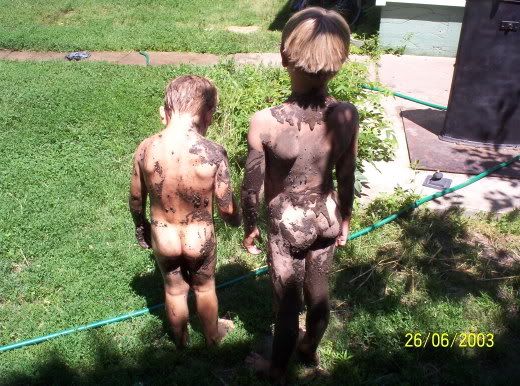 ---
---
---
---
those two could find a mudhole in the Sahara.

not really sure what it is that attracts them to mud, however the youngest one wants to buy a few pigs, so that may explain some.

We finally got some water in the pond I built and the boys figured out how to make a mud slipper slide down the dam. make a few trip with a bucket of water and slide for 20 minutes. when your butt starts catchin' haul more water !! they will spend hours on end out there. it sure beats having them in the house watching tv or plaing video games


the older one is rigid because he knows how cold that well water is going to be! younger one is figuring out there must be a little short horn in the old gene pool!
---
Rancher

Posts: 11309
Joined: Wed Feb 16, 2005 4:13 pm
Location: South East Texas
HaHaHa too cute (shorthorn) hehe Congrats Jigs!!!
Life is a roller coaster.
You can either scream every time you hit a bump or you can throw your hands up in the air and enjoy it!
¸.•*´¨`*•.¸¸.•*´¨`*•.¸¸.•*´¨`*•.¸¸.•*´¨`*•.¸
"Ever day's a good day, just some are better'n others"
---
---