Joined

Mar 19, 2021
Messages

98
Reaction score

109
Location
How do you mark your cattle or other livestock now and in the past?
We always used an ear tattoo that my dad had made up a legend for. It had our ID and the number of the mother cow in it. All the cows had horns so it was easy to see from a distance their number when branded on their horns. Our original cows had my great uncle's hide brand plus horn burnt in numbers. Since we had no reason to hide brand our cows, we used the horn brand for easy ID on all future brood cows. None of the neighbors used it so no problem with ID should that become necessary. It never did. It was a real convenience and with a set of binoculars, it saved a lot of time. We could see the entire 40-acre pasture used in calving time from the house. That was nice also to watch for coyotes.
I found this horn many years ago at a ranch rummage sale and bought it for memories.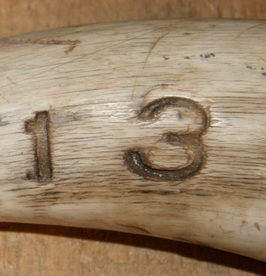 Last edited: