Joined

Mar 19, 2021
Messages

681
Reaction score

723
Location
Announcing the grand opening of G Creek's Four Gray Bunnies Saloon
where there is snow on the roof, but a roaring fire in the furnace.
We offer top security for your convenience and ease of mind.
A hitchin post is provided for horses and a parking lot for quads.
No motorcycles please, we aren't that kind of girl although we love
slapping leather. Real country music daily by our all-gray-headed girl
band, Mountain Cowgirl and the Castrators. Mountain Oyster Fry at
5 if you are still alive. Open at 5 AM and serving real cowboy coffee
that will knock your jeans off, so we require that suspenders be worn.
We do ask that if you can't keep your dentures in, leave them at home.
The Bunny Hop Two-Step starts at high noon sharp.
The sasparilla is bottled and kept on ice. No stale tap!
A special thanks to Burnt River Webbie for the donation
of our new poker table that once was used for branding.
Come on down, bring your branding iron and get your brand
burnt in our giant slab Douglas Fir bar top. The fire is always hot.
Bunny roping starts at 2 PM but be warned our bunnies are rope dancers.
Should you swing and miss, then your photo will hang on our Wall of Shame
and be used as a target for our 3 PM single action six guns only shoot out.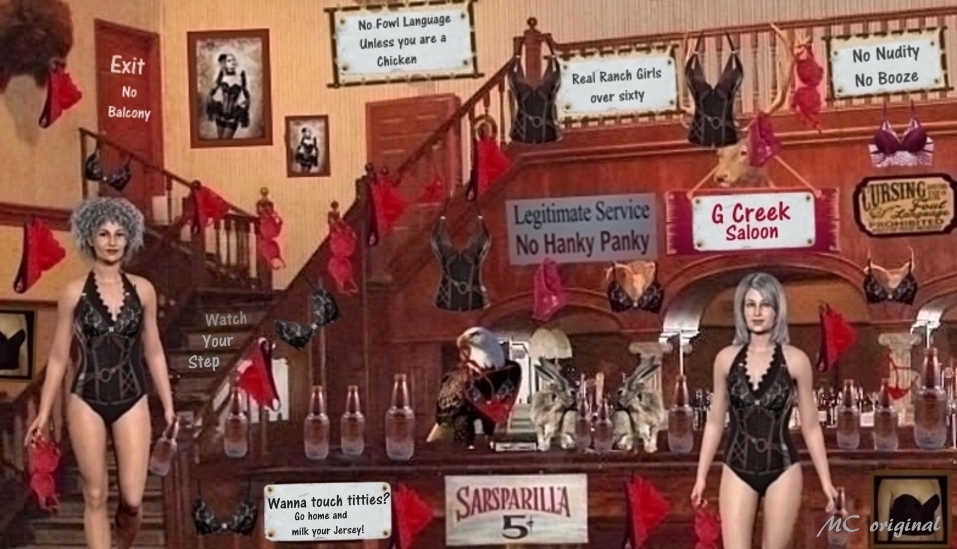 Last edited: