Joined

Mar 19, 2021
Messages

719
Reaction score

750
Location
If Elmer Fudd was a rodeo cowboy then a buckle bunny would be a wildy wrabbit.
Can any of you recall the first time you heard this term?
I can't recall in my 71 years being around ranching, rodeo, and living in the rural wild west, of ever hearing the term "buckle bunny" until the internet. Maybe it was just a term the guys used when no female ears were in hearing distance. It does seem "cowboys" back then were sure more respectful around women than they are today. It seems to me that only the arrogant wanna-be rodeo cowboys today like to brag about being stalked by buckle bunnies. It is a credential builder. I mean all these sexy garment unencumbered girls want this cowboy for the buckle he hasn't won yet. (ahem ahem) I confess that when I first heard this term, I had to look it up and found it in the
URBAN
dictionary where it was listed as common rodeo jargon.
I recently met a buckle bunny. It was in Pendleton, Oregon the home of the famous Roundup. For those that don't know, Pendleton is a "cowboy" town year around. Even in the off-season, you can't stroll the streets without seeing "Let er Buck."
A friend (skilled mounted rodeo parade waver) and I decided to eat at an out-of-the-way pizza joint hoping to escape cowboy this and cowboy that at every turn. We noticed pink and blue colored hair tattooed nose ringed college kids going in so we thought, "aw no cowboy **** in here." We entered and joined the line that quickly grew behind us. We noticed the walls were decorated with former roundup cowboy memorabilia. We opted for the "Vaquero" which was just a taco-style pizza. Their combination called "Let er Buck" had too many hard-to-digest meats for an old smooth mouth like me. My friend is lucky to be just a broken mouth at her old age but also suffers digestive problems. After my friend sat, the only seat left next to her was under some old smelly chaps. Waiting for our pizza, we downed a pitcher of "Happy Canyon" locally brewed beer. While I drink rarely and sporadically, it was, after all, happy hour, so my participation seemed to bring happiness even though we weren't in the canyon.
I called the young purple-haired lady tagged as management and dressed in short frayed jean shorts, belted and fastened with a large rodeo buckle with her boobs minimally restrained, displayed by her revealing top, over to point out the weevils were working the old pair of chaps as evident by the crumbs that had fallen on the skirting boards that created a small ledge around the old barn wood that covered the bottom four feet of the wall. She said she would take it up with higher management. I thought, "yeah of course you will." I was thankful for my internet rodeo education because now I could label her correctly, and even though she may have been a real deal rodeo rider, she was in my opinion, as indicated by her belt fastener, lack of concern for sanitation, and skimpy costume, a "buckle bunny."
Photo at age 69. Once I turned 70, I quit
wearing lower cut tops and now wear high
neck sleeveless tops exclusively. I still wear
sleeveless tops because I am exercising
my right to bare arms and won't be guilty
of self-infringement.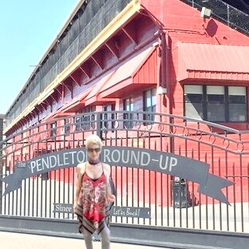 Last edited: